.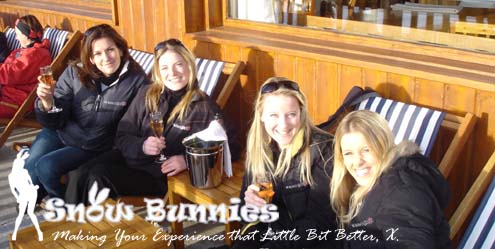 Snow Bunnies - Sophie, Gianna, Sally and Kate.
.
Hand Picked from a pool of Season workers for their outgoing personalities and stunning looks the Whitetracks Snow Bunnies are there to make your overall experience that little bit better.
in addition to creating a friendly and relaxed Atmosphere as you patiently wait to take part in your chosen activity. the snow Bunnies are all Highly skilled in the art of meeting and greeting, the Pouring of refreshingly chilled Champagne and the relaying of important information so that everyone knows exactly what's going on and is aware of any given situation!
.
| | |
| --- | --- |
| | |
| SB. Sarah Flying by Helicopter to the Bobsleigh Track in La Plagne. | SB's. Gianna & Sally with two Helicopters waiting to meet 10 Heli-Bob Clients after their Bobsleigh Experience in La Plagne. |
| | |
| --- | --- |
| | |
| The Boss of Whitetracks & SB's. from the left Marjie, Cat, Sally, Tracey & Abi in front of one of the Whitetracks Helicopters. | SB. Lucy promoting outside Barometer in Whitetracks - 'Evening Wear'. |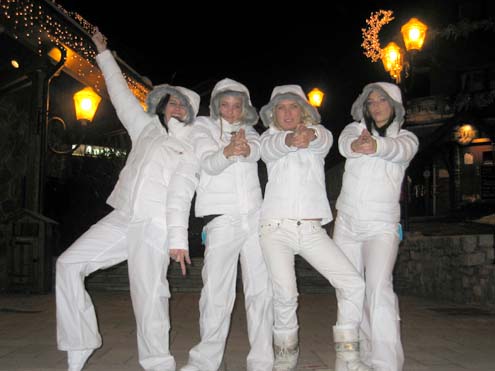 SB's. Tracey, Tash, Lucy & Joules out promoting in Meribel 24th December 2006 - the 'Whitetracks Christmas Giveaway' - the SB's visited the Tavern, Scotts, the Pub, La Poste, Barometer and Jacks!
| | |
| --- | --- |
| | |
| SB's. Lucy, Tash, Joules & Tracey posing on one of the Whitetracks 4x4's before promoting in Jacks Bar! | SB's. Tash, Joules & Lucy having a quick break for a photo and a drink whilst promoting in Le Pub! |
.
The Whitetracks Snow Bunnies - Bar Crawl
.
.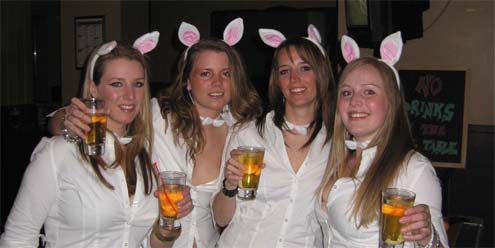 SB's. Vanessa, Lauren, Cara & KT getting ready to take a Stag Group on a Pub Crawl in Meribel.
SB's. KT & Vanessa.

Choose two or more of the Whitetracks Snow Bunnies to take you on a bar crawl like no other. Specifically targeted at groups our Snow Bunnies will take away all the hassle from your night, they will skip you straight to the front of the queues at the finest and busiest bars in Méribel; get the drinks in and most importantly make the atmosphere superb for you and THE REST OF YOUR MATES.

the Whitetracks Snow Bunnies will provide and be in charge of drinking challenges that they will set you and the others in your party throughout the night. Ultimately these girls, bunnies will keep the atmosphere electric to ensure you ALL HAVE THE night to remember!

.

Be the envy of the all the blokes in the bar!

As your stunning bunny gets the beers in....
SB. Lauren performing a 'Tequila Body Shot' on the Groom
| | |
| --- | --- |
| | |
| The Groom looking towards his next 'Bunny Drinking Challenge'. | SB's. Lauren & Cara |